Octris
Sunday, 23rd October 2022 ◆ Number is consumed, we hear (5)
Chip-8
Game jams
The mysteriously titled WDL by Internet Janitor popped its way into my Itch notifications recently. It is a Wordle variant with three-letter words, made in Chip-8 as a submission to Octojam. The game is great, and it inspired me to make an entry myself.
Octojam is a game jam dedictated to making games in Chip-8 (in October, of course) and Internet Janitor himself is its host, as well as the creator of Octo, a sublimely accessible online IDE for Chip-8.
I had recently been feeling the urge to make a small game, and this seemed like the perfect opportunity to put something small together. I had previously entered Octojam in 2015 with Codegrid, a 2d-programming game. This time I opted for something less ambitious and quicker to code.
My entry is Octris, which you can play over at Itch.
Octris, as its name may imply, is a version of Tetris which is altogether more eight. It turns out that it's super hard, and quite frustrating. With some work, I could probably make a better job of it – but nonetheless, I'm happy to have made something! See if you can beat my highscore... of 1?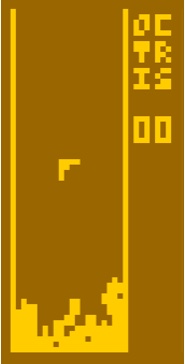 The game is mentioned in the showcase video: https://www.youtube.com/watch?v=F56lJGeqzg0