Sentence length in Spanish
Sunday, 20th September 2020 ◆ Time line (8) ◆ Comments (3)
Linguistics
Although I have read a couple French novels as part of an educational requirement, I had never read a foreign-language novel for pleasure until now. I have just finished reading "El Príncipe de la Niebla", a small teenage fiction novel by esteemed Spanish writer Carlos Ruis Zafón. His first novel, in fact.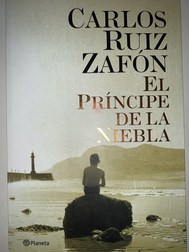 There were plenty of words I didn't know, but they did not impede my ability to follow the plot. And for sure, I learnt a lot of vocabulary along the way. It's an exciting milestone in my Spanish-learning journey, and I am looking forward to enjoying more Spanish books in the future.
Whilst reading this book, I found myself thinking that the sentences were far longer than what I would have expected in an English-language novel. This is a thought which had already been growing based on other snippets of Spanish fiction I had encountered. However, am I right? Could this just be a stylistic choice of the author, or is there a real difference in average sentence length in Spanish compared to English?
Here's an example lengthy sentence from the first page of the book:
A mediados de junio, el día en que Max cumplió los trece años, su padre, relojero e inventor a ratos perdidos, reunió a la familia en el salón y les anunció que aquél era el último día que pasarían en la que había sido su casa en los últimos diez años.
– El Príncipe de la Niebla, Chapter 1, Carlos Ruis Zafón
Let's look at some original texts. It's difficult to find the texts of novels, so instead I took three recent articles from different authors from an English and Spanish newspaper. A more exhaustive approach would be interesting, across more newspapers and languages, but I don't have the patience (yet).
| Newspaper | Article title | No. words | No. sentences | Avg words per sentence |
| --- | --- | --- | --- | --- |
| El Diario | Madrid contará con un despliegue de 200 policías locales en 60 zonas para hacer cumplir las medidas sanitarias → | 393 | 9 | 43.7 |
| El Diario | Reino Unido considera cerrar los pubs, vuelta al cole en Italia y segundo confinamiento en Israel → | 1253 | 42 | 29.8 |
| El Diario | Un juez ordena el ingreso en prisión de la directora de una residencia de Valladolid que robó en casa de un interno recién fallecido → | 1019 | 19 | 53.6 |
| The Guardian | Thai protesters call for reform of monarchy and general strike → | 883 | 31 | 28.5 |
| The Guardian | Another day not at the office: will working from home be 2020's most radical change? → | 2854 | 147 | 19.4 |
| The Guardian | Royal Academy's cruel dilemma: sell a Michelangelo or lose 150 jobs → | 851 | 32 | 26.6 |
That seems fairly conclusive! Yes, Spanish sentences do tend to be longer. Even the titles of the articles appear to be more consise in English. I think it's interesting that the makeup of a language is much more than its grammar and vocabulary; there are also different practices and styles.
What other non-grammar non-vocabulary differences are there between Spanish and English, I wonder? Or indeed, between other languages...